Flanked by a diverse crowd, enthusiastic supporters and local Park Slope and Brooklyn residents, introduced by his

by his wife Chirlane and son Dante in front of the family home, Bill de Blasio declared his candidacy for Mayor of New York City.
Received by chants of 'Yes We Can', de Blasio promised to be a mayor "of and for our neighborhoods."
"Let's be honest about where we are today: a city that in too many ways has become a tale of two cities, a place where City Hall too often has catered to the interests of the elite rather than the needs of everyday New Yorkers," de Blasio said.
"But I come to you today with a different point of view, a different set of guiding principles," de Blasio continued. "I stand before you today as someone seeking to be a mayor for our neighborhoods – good, clean, strong, safe neighborhoods in which New Yorkers from all five boroughs can start businesses, raise their kids, and find homes they can afford."
"In the spirit that all boroughs were created equal and that all our residents matter, that's why today. here in my block in Brooklyn, I proudly declare my candidacy for Mayor," de Blasio told the cheerful crowd.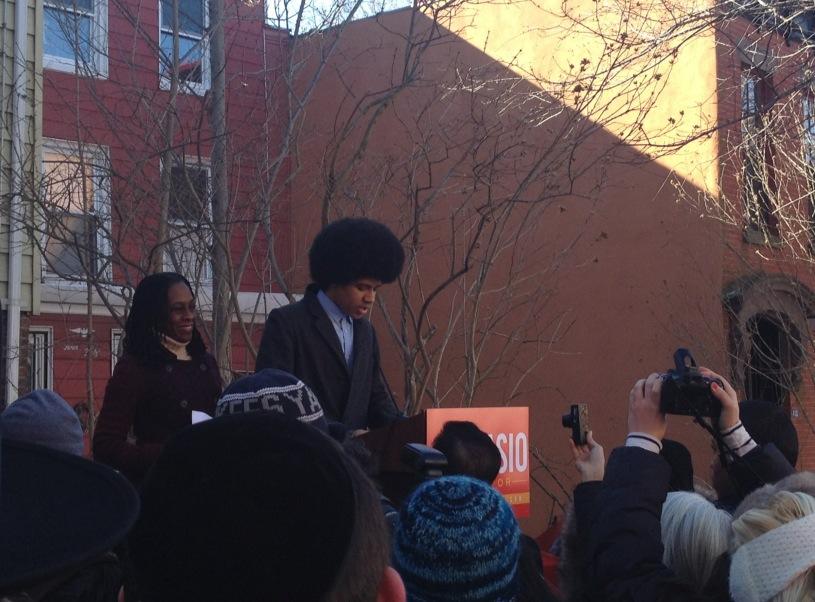 Dante the star of the campaign event introducing his dad Bill de Blasio
de Blasio: In "My City Hall' all five boroughs will matter.